Way Too Much To Make Up For The Way Too Little:

Romanticizing the music you really love is inevitable.

We envision brilliant "artists" -- yeah, the chronically misunderstood, frustrated genius kind that make REealelalellay!!! "bold statements" -- locked in basements, bearded and depraved of food and water for months on end, penning the greatest albums of all time.


But, come on: you're stuck in traffic, singing along to OMC's "How Bizarre," Six Pence Nonethericher's "Kiss Me," or STYX's "Come Sail Away" and you just ain't all that concerned with the arty or the intellectually bloated, now are ya? It's when we're pantomiming goofy Mariachi trumpet parts or hammering out drum solos on the steering wheel that we realize all that "high art vs. low art," romanticized auteur nonsense is a total crock.

Sure, the hipster intelligentsia (Adorno was such a fucking HEMAN-proto-hipster) would probably argue otherwise (wink-wink-nudge-nudgin' it as they belt fuck out the chorus to "Since U Been Gone"), but calling Beyonce or Phil Collins or that Cash Money guy who looks at the camera in Baller Blockin a "guilty pleasure" is just a pathetically lifeless attempt to admit you're head over heels in love with something you simply ain't sposed to be. Scrambling for cred with an "I don't really like it, guys" qualifier doesn't make you a better music-lover; it just makes you a stupid liar.


So now for some shit I REALLY like:



Eisley - I Wasn't Prepared [link temporarily unavailable]

Things that are good about this song:

01 the chorus, ohhhh, the chorus with that flighty vocal melody and that waver at its close
02 the melting icicle guitars when the full band comes in
03 how unafraid this band is to play pop songs
04 it was written by a group of kids whose mean age is something like 18
05 the lack of a religious subtext
06 the chorus [buy it here]


Whitetown - Your Woman

Whitetown was not a band. It was a guy who didn't look like he was supposed to. Jyoti Mishra, the coke-rimmed dudeface above, is my favorite one-hit-wonder OF...ALL...TIME. A nerd with a Mac and a love for indie pop and dance music, Mishra accidentaly wrote "Your Woman," a WHATTHEHELL hit, in 1997. It's charm is that all the parts work: trumpet fanfare and strings set to a crawling bass line and THE CLAP BEAT! [buy it here]

Kenna - Hell Bent
It must fucking suck to be the other guy in the Neptunes. Really, nobody wants a piece unless you count Kenna, an Ethiopean synth-funk band, whose records come out on Fred Durst's Flawless imprint. But, if you can't get Snoop Dogg and 14-year old girls that yell "Hey, Pharrell can you SIGN MY TITS?!??!", I suppose Kenna has to do. Even so, "Hell Bent" has a crafty stumbling beat thanks to Hugo, and the vocals -- cloying at times (shut up and get over it) -- aren't bad. [buy it
here
]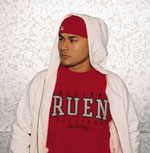 3rd Wish ft. Baby Bash - Obsession (Si Es Amor)
Frankie J and Baby Bash - Obsession (No Es Amor)

Please enjoy the best song on the radio, and the original version, written by a latino boy band that isnt Menudo. [preorder Frankie J's here]

Susanna and the Magical Orchestra - Jolene (Dolly Parton cover)

Listen, you don't do this song unless you can DO this song. And I think Susanna Wallumrød and her Magical Orchestra (which is actually Jaga Jazzist keyboardist Morten Qvenild) DO the hell out of this song. Dolly Parton's version is pretty confrontational, but what the Norwegian duo offer up is ultimately defeate -- a final plea from a woman at rope's end. Really, there should be more re-interpretive covers like this. No charging rhythm section, no guitars. Just some wet keys and a whitewashed voice. [buy it here]